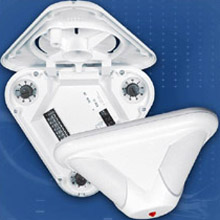 Bosch DS9370 Series Ceiling Mount Detector helped Jade Alarm Co. and the local authorities at Kansas City Community Center apprehend an intruder
The Bosch DS9370 Series Ceiling Mount Detector recently helped Jade Alarm Co. and the local authorities apprehend an intruder at the Whatsoever Community Centre in Kansas City, Missouri.
The intruder attempted to circumvent the Centre's first floor perimeter security by scaling an exterior wall and entering the facility on the second floor. Upon detecting motion on the second floor, the DS9370 triggered an alarm to the Bosch control panel securing the premises. Bosch Certified Security Dealer Jade Alarm Co., the system installer and central monitoring station, immediately dispatched local law enforcement personnel to the centre.
With the rapid detection of the intruder and response to the alarm, local authorities were able to arrive in time to observe the suspect beginning to leave the premises. As a result, the intruder returned to the community centre and attempted to hide in the ceiling, where police promptly located and arrested the man.
"Bosch detectors deliver extremely reliable catch performance, enabling our central station to provide an unsurpassed level of service to our customers," said Joseph Pfefer, President, Jade Alarm Co. "This alarm event is just one instance where the technology's flawless operation has helped us protect our customers' facilities and assets."
The DS9370 Series TriTech PIR/Microwave Detector uses several patented processing techniques to provide excellent catch performance with freedom from false alarms. The detector can be mounted on ceilings as high as 25 feet and provides fully adjustable optics for coverage integrity at all mounting heights.
Download PDF version