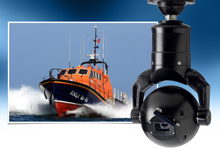 The tough MIC Series 400 cameras allow the RNLI to record footage of dramatic search and rescue incidents
The Royal National Lifeboat Institution (RNLI) has used
Bosch's
rugged MIC Series 400 pan-tilt-zoom cameras on board its Tamar class all-weather lifeboats for more than six years and plans a roll out to more of the charity's lifeboats in the near future.
The RNLI is a registered charity, devoted to saving lives at sea, and relies solely on voluntary donations. The charity operates more than 330 lifeboats - which highly trained volunteers' crew - from 235 lifeboat stations around the coasts of the UK and Republic of Ireland. Since its foundation in 1824 the charity has been responsible for saving the lives of more than 139,000 individuals who have found themselves in difficulty at sea.
Mounted to the exterior of the Tamar lifeboats, the tough MIC Series 400 cameras allow the RNLI to record footage of dramatic search & rescue incidents. The footage is used for training, operational and broadcast purposes. Peter Bradley, RNLI Staff Officer Communications, explains:
"We identified a requirement to record video footage while our volunteer crews are at sea and found Bosch's MIC Series 400 cameras can more than withstand the tough conditions we subject them to."
The IP68 rated camera housing of the MIC series is machined from 6mm thick solid aluminium and totally corrosion proof
The RNLI specified the MIC Series 400 AL version for its Tamar lifeboats. The IP68 rated camera housing, machined from 6mm thick solid aluminium is totally corrosion proof thanks to treatment with special coating processes used in both the aerospace and defence industries. It is testament to the camera's quality design and construction that it will continue to keep on working even when submerged underwater, making it the ideal choice for marine and coastal applications.
Full 360° continuous rotation and 320° tilt control, with up to a 36x zoom option allows camera operators to pinpoint incidents quickly and effectively in even the harshest environmental conditions. A toughened, optically perfect flat viewing window and integrated wiper more than copes with sea spray and waves the camera encounters mounted aboard a high speed, sea-going vessel.
Some key facts about the RNLI:


The RNLI charity saves lives at sea. Its volunteers provide a 24-hour search and rescue service around the United Kingdom and Republic of Ireland coasts. The RNLI operates 235 lifeboat stations in the UK and Ireland and has more than 150 lifeguard units on beaches around the UK. The RNLI is independent of Coastguard and government and depends on voluntary donations and legacies to maintain its rescue service. Since the RNLI was founded in 1824 its lifeboat crews and lifeguards have saved over 137,000 lives.
Download PDF version