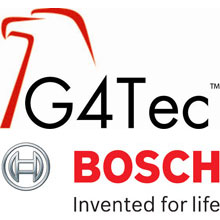 Group 4 Technology's Symmetry Security Management System integrates with Bosch IP cameras
Group 4 Technology announces that its Symmetry Security Management System (SMS) now integrates with Bosch Security Systems' IP cameras. This integration cements Group 4 Technology's strategic partnership with Bosch and provides customers with another best-in-breed IP partner solution.
Along with Bosch's Divar 9- and 16-channel digital video recorders, Symmetry SMS now supports several models of Bosch IP cameras. Compatible cameras include the Dinion and DinionXF Day/Night IP Cameras with 15-bit digital imaging for crisp, clear images, FlexiDome IP and FlexiDomeDN Day/Night Cameras featuring a high-impact, vandal-resistant dome and Bosch's range of AutoDome Modular high-speed pan-tilt-zoom IP cameras.
"Adding Bosch IP cameras to our product line greatly enhances the Symmetry Security Management product portfolio," said Group 4 Technology Chief Technology Officer David Ella. "Bosch is a leader in IP camera technology we are pleased to be able to offer this integration to our customers."
"With the wide range of IP cameras supported, Bosch can be chosen for nearly any type of application that incorporates the Symmetry system," said Paul Wong, Managing Director - Bosch Security UK. "When Bosch cameras are selected, end users benefit from superior image quality and reliable surveillance."
Group 4 Technology's Symmetry SMS is an intelligent networked solution scaled to manage security management challenges from small, remote facilities to multi-national organisations located around the globe. Symmetry SMS can be custom designed to provide a synergistic solution with any combination of access control, digital video, identity management, alarm monitoring, intrusion, and visitor management to protect staff, premises and assets.
Download PDF version