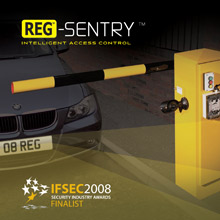 Following on from the success at the North East Business Awards where its AEGIS Intelligent-IR illuminator won both the Product Innovation and Technology categories, Derwent is celebrating again with the news that AEGIS has made it to the last six in the prestigious CCTV Product of the Year Award category at IFSEC 2008.
Derwent also joins select nominees in the Access Control Product of the Year Award with REG-SENTRY™, the company's first automated vehicle access control system based on its field proven REG™ range of licence plate capture cameras.
MD Peter Beare said, "I am delighted that the hard work and commitment of the whole team here at Derwent is being recognised and rewarded".
Derwent joins Bosch who recently acquired the company on the finalists' list. Bosch Security Systems are up for the Intruder Alarm Product of the Year award.
Speaking on behalf of the judges, Alex Carmichael, Technical Director at the BSIA, said, "Year on year the finalists and winners show that security companies are constantly raising the bar when it comes to their products and that innovation is at the very heart of our industry."
The awards will be handed out on 12th May, following the opening day at IFSEC 2008.
Download PDF version