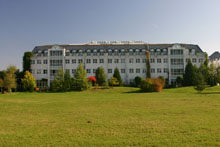 Controlware provide video transmission, management, recording, and video content analysis systems
Leading IP CCTV specialist
Controlware Communications
has reached a significant milestone by supplying over 35,000 CCTV digital video channels in Europe.
Helmut Woerner, Chief Executive Officer of Controlware said, "Naturally, we are delighted to reach this landmark sales figure. We are extremely proud of this achievement and the role that Controlware has played in transforming the efficiency of CCTV operations for so many businesses."
Reaching this milestone only serves to further cement Controlware's position as a technology leader in the delivery of security surveillance solutions.
Comprehensive solutions
Controlware provide video transmission, management, recording, and video content analysis systems. With extensive experience in communications networking, technical expertise enables Controlware to not only supply products but also assist with design, integration, and support of advanced surveillance solutions. With a worldwide network of key technology and channel partners Controlware is the supplier of choice for digital / IP CCTV solutions, enhancing security while ensuring peace of mind.
Verint Systems - whose video intelligence solutions are distributed by Controlware - commends the achievement with David Parcell, Managing Director, EMEA stating, "Controlware's extensive technical expertise combined with its comprehensive range of products and services make it an important partner of ours. We extend our congratulations on this key milestone, which marks the company's dedication and commitment to customers."
Paul Wong Managing Director of Bosch Security Systems said "On behalf of Bosch Security UK I would like to congratulate Controlware on reaching a significant milestone. As a leading Bosch Security Systems Dealer (BSSD) in the UK and having worked with Bosch products for a number of year's customers are guaranteed quality and reliability backed by unrivalled levels of support. "
Download PDF version