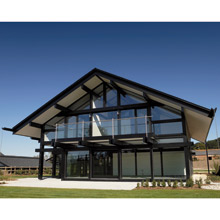 When property developer Bowmore Estates wanted state of the art security systems for its inspired development at Bowden Hill, in the heart of the Wiltshire countryside, it turned to local installer - Total Fire and Security Ltd, who recommended the equally inspired Bosch Easy Series intruder alarm system.

The Bowden Hill development, situated in a rural position outside the National Trust village of Lacock, comprises four new post and beam constructed homes from Germany manufactured by Huf Haus. The properties have guide prices between £1.2m and £1.4m.

Gerry Wood of Total Fire and Security said: "Wiltshire constantly attracts prestige developments, taking full advantage of the land and rural setting. Huf Haus have a high reputation in terms of the build and the interior finish. So when we were approached by the electrical contractor working for Bowmore Estates we recommended a system using Bosch's new wireless Easy Series."

The innovative and award winning design of the Huf house is based on striking glass and timber architecture using sustainable materials to create a very eco-friendly building. Every aspect of the house is of uncompromised quality, whether it be the use of high-grade heat insulating glazing and turn-tilt windows and under floor heating to provide one of the highest heat efficiency ratings achieved in the UK, or the electronically operated external blinds which are fitted to all ground level windows providing extra security.

"The houses are in a remote location," continues Gerry, "and throughout the build there was a risk of theft from both the building site and the properties themselves. We understood the requirements and knew that the security solution had to provide reliable and security would need to be attractively packaged."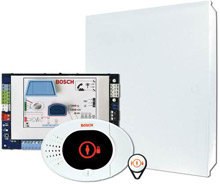 "We are the only installer in the region to offer the Bosch Easy Series and since its launch last year we've installed more than 30 systems in residential properties where the homes are typically valued at more than £750,000. We had no hesitation when recommending the Easy Series for Bowden Hill and now that the homes are on the market, Bowmore Estates appreciate having a name synonymous with quality."

"We installed the Easy Series system at each of the four houses as construction was completed. The systems comprise 10 to14 radio devices, including PIR detectors and door contacts. The wireless nature of the system also allowed us to fit a radio device on detached garages with no wiring."

Adam Breeze, Strategic Marketing Manager for Bosch Security said, "We launched the wireless Easy Series last year and it is redefining the intrusion market. From the end-users perspective the highly stylish control centre is exceptionally user-friendly featuring a text-free icon-led display with full voice-based support. Crucially the wireless Security Network (wLSN) technology provides a number of benefits to ease the install process."

These installer benefits include: fast and easy installation because it is wireless; multi-channel operation which is not affected by other RF devices (further improving reliability); and it has two-way transmission and auto configuration resulting in predictable, quick and easy programming and set-up.

The new Easy Series also features a signal strength indicator to verify the RF signal prior to mounting, and a battery life of up to five years. The installation process is further helped by the integrated bubble level to ensure a horizontal fit, 45 degree coloured terminal strips, and a covered PCB with detailed description on the cover plate.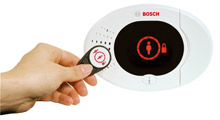 Various arming options are available including PIN code, RFID tag, and key fob, as well as having the ability to arm/disarm the system via a mobile phone. Numerous features have been included to reduce false alarms including integrated two-way audio verification, Intelligent Threat Assessment, cross-zoning (ie sequential verification) and graduated annunciation (ie a rising urgency in the control centre volume as each security point is breached). Several integrated transmission options are also available including voice dialler, and digital dialler.

As well as warning of intruders, the new Easy Series can also generate alarms activated by fire and also monitor the condition of freezers, fridges and central heating. A range of associated detection devices is available including wireless PIRs, motion detectors, sirens, smoke detectors, glass break detectors, and door contacts.

The control panel has eight on-board zones, expandable up to 32 hardwired zones via eight zone modules or 32 wireless, the flexibility of the panel means that this is a truly hybrid control panel. Up to 20 key fobs, tags and codes can be set with the option of three different set and un-set options. The Grade 2 system is EN50131-1 compliant and EN50131-5-3 approved for radio panels along with the UK standard of PD6662.
Download PDF version