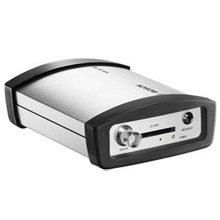 The VIP X1-XF H.264 video server was introduced by Bosch to smarten up existing analogue cameras
A recent market survey conducted by IMS Research, leading suppliers of detailed, quality market research to the global electronics industry, confirms Bosch Security Systems' leadership in CCTV and video surveillance equipment in the EMEA region. The 2010 IMS report puts the company at number one in video encoders and in DVRs. These results follow in the wake of a host of innovations recently introduced by the company. With the new VIP X1-XF H.264 video encoder Bosch significantly increased the market share for video encoders; with the introduction of the 700 Series Network and Hybrid recorders the company strengthened its position in Digital Video Recorders.

The VIP X1-XF H.264 was introduced by Bosch to smarten up existing analogue cameras by transforming them into powerful automated detectors delivering best-quality H.264 compressed Video over IP. The encoder is also equipped with a dedicated hardware-accelerator for Bosch Intelligent Video Analysis (IVA) functions, introducing a new level of automation to CCTV monitoring.

The new 700 Series Network Video Recorder is based on a completely new all-IP platform that supports up to 32 IP cameras. The 700 Series Hybrid recorder is an updated version of Bosch's successful hybrid platform (embodied in the company's Divar XF Hybrid recorder). It supports up to 16 IP cameras and 16 analogue cameras. Both 700 Series recorders offer real-time recording and playback in full 4CIF resolution and, as with the VIP X1-XF H.264, feature Bosch's advanced H.264 compression technology.

According to Johan Jubbega, Senior Vice President Sales EMEA for Bosch Security Systems, the company plans to further expand its market share by continuously adding innovative products to its CCTV portfolio.
Download PDF version