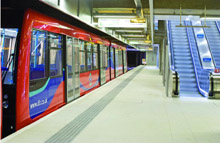 Bosch provides digital Public Address and Voice Alarm technology at London's newest DLR station
Passengers at London's newest DLR (Docklands Light Railway) station, Woolwich Arsenal, can hear station announcements clearly, thanks to sophisticated digital Public Address and Voice Alarm (PA/VA) technology from Bosch Security Systems. The system was installed at the station by PEL Services, one of the UK's foremost providers of commercial sound and communication systems.
Part of the extended DLR in East London, Woolwich Arsenal provides an alternative way to cross the River Thames. Opened in January 2009, Woolwich Arsenal is DLR's 40th station and has been designed to a very high quality to incorporate modern passenger facilities.
The Voice Alarm system is clearly a very important aspect of these facilities, as Vic Swain of PEL Services explains: "In designing the PA/VA system, we were looking to offer the very best in audibility for announcements, to deliver a reliable and effective system to passengers using the station. Having worked on a number of projects for the DLR previously, the Bosch Praesideo was the obvious choice, fulfilling all our requirements in terms of quality, flexibility and reliability."
Bosch Praesideo is the world's first fully digital public address and emergency sound system. Its unique optical network offers total freedom in system design, interference-free audio and a high level of redundancy that traditional systems cannot offer. It is fully programmable, and interfaces with other security systems.
PEL Services was awarded the contract by Transmitton (Siemens) to supply and commission the PA/VA system at Woolwich Arsenal station as a result of its extensive experience in working in Section 12 stations, i.e. sub surface.
"
As a fully programmable system, we interfaced the Bosch Praesideo with the Fire Alarm system and incorporated ambient noise sensing throughout to adjust the Customer Information Systems announcements to cope with changing noise levels, while ensuring that the fire alarms remain at a pre set level for complete safety
," Vic continues.
Bosch Praesideo is the world's first fully digital public address and emergency sound system
"The Praesideo is linked to column speakers in the concourse and projection speakers on the platforms. There is also a zoned station microphone located in the station operations room for general announcements, plus local station microphones at passenger emergency points for use by station staff at platform level.
"Thanks to its optical network and a high level of redundancy, the Praesideo system offers design flexibility. The fact that all equipment can be contained in one rack was an important consideration with space at a premium.
"We knew that the Praesideo would meet the demands of the station, and had the quality software for ease of installation. Alongside its recognised installer training programmes, Bosch also offered end-user training for the station staff," concludes Vic.
The new Voice Alarm system at Woolwich Arsenal station is part of the Long Line Public Address (LLPA) system for DLR, which allows messages to be obtained from a pre-programmed standard suite and be quickly assembled. There is also scratch-pad for the operators to assemble messages for later transmission or be produced directly from a microphone. Announcements can be sent simultaneously to all stations, groups of stations or individual stations. A dedicated workstation in the Network control Room (Poplar) facilitates these.
Download PDF version