Wigan Town centre experiences the same anti-social problems as every small town in the country and when the existing camera network was in need of upgrading, Skelmersdale based Unique Integrated Systems (UIS) installed more than 50 Bosch Dinion XF Day/Night cameras for the project.

Wigan Council approached UIS as it has proven expertise on a number of previous installations, including work on several high schools in the area and the town centre.

The entire 500 plus camera network that covers the town centre is being revamped as the quality of the pictures being captured were not of high enough resolution for easy monitoring and recording.

Tony Hollinrake of Wigan Council's Security Solution Section explains: "King Street in Wigan is one of the most popular places to go out on a Friday and Saturday night and can attract more than 10,000 people. It is not uncommon for anti-social behaviour to occur and it is vital that we can record good quality images to aid the police in prosecution should they need it."

"The Bosch cameras that have been installed are working fantastically, the night time images are so clear it is almost like they were captured in broad daylight. We are very pleased and will be using the same Bosch Dinion cameras to be used on the remaining upgrade."

Mark Ashall, Operations Director at UIS comments: "The existing network was 10 years old and the council was finding that the images lacked enough clarity and were becoming a bit sluggish when operating. We always specify Bosch cameras for projects as the reliability is second to none. We know that once the project is completed we will not have to go back to fix anything and the quality of the pictures is excellent."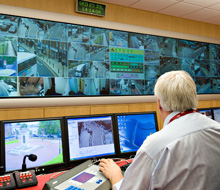 Wigan Council's CCTV monitoring suite ­ is supervised by six Bosch vandal resistant domes


Bosch Security Systems engineers visited Wigan days after the installation was completed as Tony Hollinrake continues: "The project was completed in less than three weeks so we were running the cameras by the end of April, and there have not been any problems with the installation or with their performance since."

Images from the cameras are transmitted to the Council's new monitoring suite in the dedicated control centre in the town hall. The CCTV monitoring suite ­ supervised by six Bosch vandal resistant domes - rates among the best in the country, and the 550 cameras covering the town centre, public areas, council properties and various civil amenities make Wigan one of the safest town centres in the country.

Tony Hollinrake concludes: "Following the large investment of new equipment in the control centre, it was important to have this safeguarded with CCTV. As we use Bosch cameras throughout the town and are very pleased with their performance, it was an obvious choice to use Bosch technology in the monitoring suite too."
Download PDF version