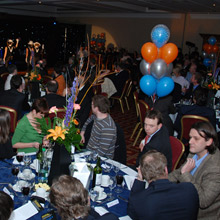 As well in excess of 3,000 converged on Stoneleigh Park, near Coventry during IIPSEC week in January, one issue was on everyone's lips: "the need to learn more about networked security and live safety solutions".
"Quality time with quality people"
With seminar delegate numbers more than doubling since 2007, it's clear that visitors, speakers and exhibitors value IIPSEC as a unique learning experience. "Offering quality time with quality people has always been our motto," stated Kevin Fagan, event director. "This combined with a strong educational bias and opportunities to engage with the experts continues to draw security and life safety professionals from across the globe."
With more than 60 seminars and educational tracks, over 100 exhibiting companies on hand to demonstrate their equipment and more than 250 manufacturers and solution providers represented, IIPSEC stands alone as a dedicated security and life safety technology event.
Hot topics at IIPSEC 2008
Hot topics for 2008 were megapixel technologies, wireless and mobile transmission, security management systems and integrated solutions. It is clear that as an industry, adding value to traditional security and surveillance systems is a must and will become even more important as end-user requirements become more sophisticated.
Although video-over-IP has a way to go before it becomes mainstream it is obvious that converged or integrated solutions that include access control, intruder and fire detection, CCTV and audio provide huge benefits across the board. Joined up security, life safety and BMS solutions makes sense and this was born out by the "IP in Security Innovation Award" winning project - Wembley Stadium a truly converged solution.
The place where business is done
IIPSEC has long been recognised as the event where business is done and with an increasingly knowledgeable attendee base this has become even more evident this year. Not a traditional "trade show", IIPSEC successfully strives to introduce "can-do, will-do people" to potential customers and business partners.
With more than 80% of attendees of senior management or director level, 75% having true purchasing power, exhibitors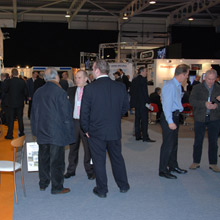 and sponsors have yet again been inundated with real and tangible opportunities at the show.
Security consultants move with the times.
One of the most significant trends at this year's event has been the increase in attendance, both as visitors and seminar delegates, of security consultants. This important group see IIPSEC as a valuable opportunity to keep up with the latest solutions and learn more about emerging technologies.
With speakers from many of the most visionary companies in the industry, IIPSEC is seen as the only platform that concentrates on educating at all levels providing a unique forum for developers, installers and users alike.
Rewarding innovation
The IP in Security Awards Scheme is a unique opportunity for companies to take up the challenge and prove that new and innovative IP based security products or services can meet the demands of today's new breed of solution providers and end-users.
The winners this year were announced at the IIPSEC Party Night at the Coventry Hilton on the Wednesday of IIPSEC week.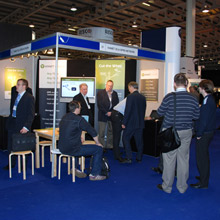 The dinner attended by more than 160 key industry members and media gave the winning products unrivalled exposure on the evening.
The quality of the entries to this non-sponsored event were as high as ever and the independent judges who are drawn from all aspects of the industry found it extremely difficult to separate the winners in the three technology categories (hardware, software and applications) and the overall winner. Also for the second year running the membership of the IP UserGroup nominated and voted for the recipient of the IP UserGroup Award which was fiercely contested.
And the winners were:
IIPSEC Innovation Award Winner: Honeywell Building Systems - for the Wembley Stadium (WNSL) project.
Winner Hardware Category: CIEFFE - NETTUNO MegaDome PTZ Camera
Finalists

Winner Software Category: Salent - Monitoring Centre Software
Finalists
Winner Application Category: Honeywell Building Systems - Wembley Stadium (WNSL)
Finalists
Always On - Grocery Chain IP over ISDN solution
DVTel - Sea Locks Project
Flir Systems - G8 Summit
Honeywell Building Systems - Wembley Stadium (WNSL)
Telindus Surveillance Solutions - The National Roads Telecommunications Services
IP UserGroup Membership Award: Axis Communications - 212 PTZ
Finalists
Important trends and event demographics:
Approaching one in three are international (non-UK)
80% of attendees are at management or director level
2/3 of IIPSEC 2008 visitors had not attended before
90% believe they are not adequately informed about IP
About IIPSEC 2009
IIPSEC 2009 is your one opportunity to visit an event designed to give you the answers and help you unravel the mysteries of networked security technology.
With its structured exhibition, vast education and technology focused programme, visitors from over 70 countries make their annual homage to the show. IIPSEC continues to lead the field in delivering "next generation" networkable solutions and throughout this invaluable three day experience, the event will be unlocking the true potential of IP technology through an extensive showcase of products and the popular educational programme, conference and new break-out sessions.
Download PDF version