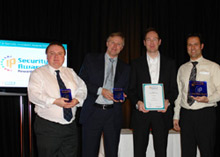 Entries for the prestigious IP-in-Security Awards 2008 will be accepted from now until 1st December 2007, the team behind IIPSEC announced. This annual competition encourages developers, manufacturers and system integrators of IP based technology to participate and gain reward and recognition for their products and installations.
The award programme is run in conjunction with IIPSEC 2008, Europe's leading IP in Security Exhibition and Conference, and is endorsed by the IP UserGroup (IPUG) - the fastest growing independent security technology forum in the world.
The celebration of excellence in IP Innovation
For more than 5 years, the IP in Security Awards scheme has given developers and manufacturers an excellent opportunity to have their products and case studies judged by a pre-eminent panel of judges. More than 200 industry stakeholders and media will attend the Gala Dinner on 30th January 2008 and see this years Innovation Awards announced at the Hilton Hotel Coventry UK. Guests will enjoy foods from all corners of the globe with an 'Around-the-World' Buffet along with a special guest to present the awards.
Download PDF version