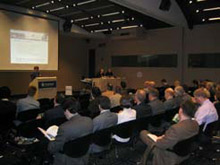 The IP UserGroup, the fastest growing physical security technology forum in the world, have recently announced their events calendar for 2008.

IP-in-Action LIVE is a series of one-day networking and educational events that provides timely information on the latest trends, best practices, and new technologies involved in the design, implementation and support of IP-centric and integrated physical security solutions.

These events build on the success of the group during 2007 and span both Europe and the USA.
6 November 2007 - Dallas, USA
6 December 2007 - Essex, UK

29 - 31 January 2008 - IIPSEC 2008

12 February 2008 - Orlando, USA

6 March 2008 - Reading, UK

19 - 21 March 2008 - New Delhi, India
12 May 2008 - Washington DC, USA

19 June 2008 - Midlands, UK

25 - 26 June 2008 - Sophia, Bulgaria

12 August 2008 - Chicago, USA
19 September 2008 - Dublin, Ireland
18 November 2008 - San Francisco, USA
4 December 2008 - London, UK
Download PDF version