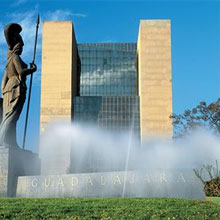 The event will feature educational presentations and the latest IP security products
IP UserGroup Latin America will host the next security technology event IP-in-Action LIVE, the event will take place in Guadalajara - Mexico on Thursday, September 12 2013.
Date: Thursday, September 12 2013
Time: 8.30am - 6pm
Venue: Fiesta Americana Guadalajara Hotel
Address: Av. Aurelio Aveces No. 225, Vallarta Poniente, C.P 44110, Guadalajara, México
Located in the economic and financial heart of this big metropolis, near the Old Town and the Expo Guadalajara, as well as shops, art galleries, museums, restaurants and bars. The Miguel Hidalgo y Costilla Guadalajara International Airport is 30 minutes away.
The day will feature:
Full programme of Educational Presentations in the Seminar Theatres
Excellent selection of the very latest IP security products in the Exhibition Area
Great opportunity to Network and get together with like-minded Professionals
Free refreshments throughout the day and a Buffet Lunch
Download PDF version