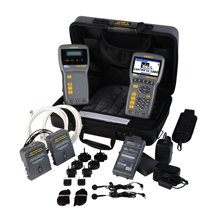 QED will stock and supply the LanTEK range of LAN Cable Certifiers
QED Networks
, the newly formed supplier of networking equipment have recently formed a business partnership with
Ideal Industries
to stock and supply their LanTEK® range of LAN Cable Certifiers.
Matt Philp, QED Networks Operations Manger commented:
"We are very happy to be a new distributor for the LanTEK® products. It is a fantastic range with quality build and excellent performance."
Matt continued:
"QED Networks is expanding at a staggering rate. The addition of this range fits perfectly into our long term plan."


The LanTEK® range boasts the best speed, price and performance in the market with 9 second Cat 5e and 14 second Cat 6 tests with full performance data plus 10 Gigabit Alien Crosstalk testing. Ideal Industries claim this makes the LanTEK® II the "ultimate copper certification platform".
The relationship with Ideal Industries will add to QED Networks quickly growing list of 400+ products already in stock and ready for supply.
QED Networks are offering a free demonstration of the LanTEK® range. To get a demonstration, register your details on QED Networks website or by navigating to this
link
or call +44 (0) 845 833 9174.
QED Networks have an introductory offer on the LanTEK® II Series Cable Certifiers. The equipment is offered on a low cost rental with nothing to pay for 3 months plus an immediate £800.00 cash back offer.
Ideal Industries, formed in 1916 manufactures over 6,000 products focused around electrical and engineering disciplines.
Download PDF version