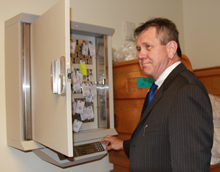 RD Offutt Company uses NetDVMS from OnSSI to combine Video Management with Wireless Network
RD Offutt Company of Fargo, ND, one of the largest farm and dairy operations in the United States, has implemented a NetDVMS networked video surveillance system from On-Net Surveillance Systems, Inc. (OnSSI) to help watch over their operations. The company's Three Mile Canyon Farms/Castle Rock Farming, located about 150 miles east of Portland, or, covers 93,000 acres and uses forward-looking green farming practices to produce potatoes and other crops. It is also home to one of the largest dairies in the United States, managed by Columbia River Dairy.
RD Offutt Company uses OnSSI's NetDVMS to tie together video surveillance and monitor business operations, utilising a 110-square-mile wireless network that contains more than 1,000 nodes. The company chose NetDVMS for its ease of use, flexibility, rich features and cost effectiveness. OnSSI Certified Channel Partner, Dry Canyon Communications, based in Redmond, Oregon assisted in the installation and implementation of OnSSI's NetDVMS system at Three Mile Canyon Farms.
The scalability of NetDVMS enabled RD Offutt to leverage their investment in video surveillance and tie new cameras into the same system as their existing cameras. The company can view and manage cameras and recorded video from multiple NetDVMS servers located anywhere in the world. OnSSI's NetDVMS's video client and Netmatrix virtual video matrix switch software technologies allow the company to view video anywhere on the network at bandwidths that do not create congestion or network problems.
RD Offutt Company uses OnSSI's NetDVMS to tie together video surveillance and monitor business operations
NetDVMS, also an Ocularis platform recorder, is a large-scale IP video surveillance management system designed for multi-site/multi-server NVR and camera management applications. NetDVMS provides powerful, enterprise-level recording, archiving and event management capabilities for an unlimited number of cameras, through convergence with physical security and IT systems, advanced content analytics modules and Universal Camera Support.
"Wireless networking enables NetDVMS to be used across a very large geographic area, and this application demonstrates perfectly the flexibility of the technology and its capability to transform the effectiveness of large systems," said Gadi Piran, President of OnSSI.
"The need to monitor video from multiple sites is a growing requirement for enterprise businesses, and it's an environment where NetDVMS really delivers."
Download PDF version