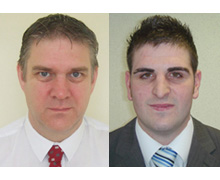 David Montage (left) and Ashley Wyton (right) have been appointed to senior posts by FLIR Systems
FLIR Systems announces that as from April 5th David Montague has joined the FLIR Systems CVS Division as Director Europe - Security & Surveillance Distribution.
David has worked for the past eleven years at Cooper Security (intruder alarm and access control). Three years as the UK Sales Manager and six years as International Sales Manager. In November 2006 David was appointed EMEA Sales Manager where he was responsible for supervision of the UK and International sales teams and the management of the distribution network. He was responsible for business-development and account management in Germany, Italy, Benelux, Scandinavia, UAE, Iran, Russia, Czech Republic, Poland, Hungary.
"I am very happy to be part of the FLIR Systems team.", says David. "Possibilities and applications for thermal imaging cameras are tremendous. I am convinced that this technology will soon be present in even more new or existing security and surveillance networks."
At the same time, Ashley Wyton has been appointed as the new Distribution Manager Security & Surveillance UK & Ireland. Ashley also has a background within Cooper Security where he was responsible for managing the UK & Ireland distribution network. Prior to that Ashley´s background is in technical design and sales of ADT CCTV access and intruder alarm systems.
"Thermal imaging is a great technology," says Ashley. "By further developing the distribution network for FLIR Systems Security and Surveillance cameras in the UK & Ireland, I hope to bring the benefits of the technology to many more users."
Download PDF version