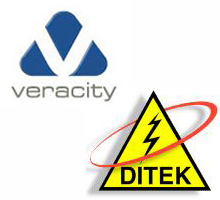 Veracity and Ditek announce partnership to inform about the need to use surge protection devices for POE
Veracity
and
Ditek
are pleased to announce a new partnership designed to inform their customer base about the need to consider- and use- surge protection devices when using POE.
If you think this is not something that is needed, read the story below... "Nightmare on I.T. Street - A True Story!"
A major Southeastern University installed network-integrated IP cameras across its campus as a safety precaution after a series of violent acts were committed against female students.
Subsequently, during a thunderstorm, lightning hit a dormitory's parapet-mounted IP camera. The unprotected camera was destroyed. The lightning surge then traveled to the unprotected network server, destroying both the server and the switch. The surge kept going, eventually destroying network cards in students' laptops at the very end of the cable runs.
In the blink of an eye, the building's IT backbone, including the CCTV systems, went down. Equipment losses from this single event exceeded $100,000. Of greater concern to the University, the loss of the cameras and recorders left students vulnerable to criminal attacks until replacements could be installed. Several other buildings experienced similar failures over the next few months.
The VERY unhappy I.T. Director summoned the project integrator, two engineering firms, the camera manufacturer, and the distributor to a "How could this have happened?" meeting. The distributor contacted DITEK, who immediately deployed their Tech Team to perform a site survey and recommend the appropriate surge protection solutions, which have since been installed across the entire campus. There have been no further losses.
Keep this nightmare from happening to you and your customers by installing DITEK surge protection!

Geek Bits:
DITEK's IP Video/Network protectors pass Gigabit Ethernet data, not just CAT5 streams.
DITEK protectors will pass up to 8 megapixel images without data loss.
DITEK's DTK-MRJPOE and DTK-RM12POE protectors already meet PoE Plus, giving you protection for both today's and tomorrow's equipment and eliminating the need for future costly upgrades.
Download PDF version