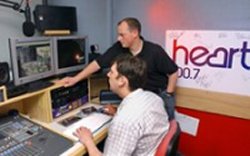 To help improve the safety and security of staff, one of the Midlands' most popular commercial radio stations, 100.7 Heart fm, has chosen to install Siemens Building Technologies Security Products' latest access security system.
100.7 Heart fm, located at studios in a courtyard just off Birmingham's busy Broad Street, serves a weekly audience of some 840,000 listeners across Warwickshire and the West Midlands.
Like all media outlets, it needs to have tight security - especially due to its central location, which offers an open face to the public. This makes strictly controlling access to all, but the public areas, critical. Furthermore, during the evenings where late night and overnight staff operate the building, an effective monitoring system is required at all times, allowing staff responsible for security to monitor the building, surveying movement in the building and those people trying to gain access.
The station's offices and studios are set on three sides of a courtyard, posing a particular challenge to anyone having to install security equipment in order to create an integrated system, which does not involve extensive separate cabling.
100.7 Heart fm management appointed Ashfield Security of Blackheath; West Midlands to specify and install a security system that incorporated both controlled access and CCTV monitoring. The company has a long established trading record in security dating back to 1925, and now specialises in providing commercial as well as domestic security solutions.
100.7 Heart fm's technical manager, Jon Page said: "The system we required had to be simple but secure. We have around 150 people who regularly work or visit the station and they need to have access to different parts of the building at any given time. Another key consideration for us was night-time security. We wanted the people responsible for security to be aware of who was in the building or who was wanting to enter."
In response to the security specification outlined by 100.7 Heart fm, Ashfield Security selected a Bewator Entro 5 Access Control system and Eventys Lite Digital Video Recording (DVR) system together with seven CCTV cameras placed in strategic internal and external locations.
Ashfield Security's Chris Barnard, said: "The Entro 5 is a particularly user-friendly, networkable access control system, while the Eventys Lite offers extreme flexibility and the ability to network - through an Ethernet or LAN, as well as the web. This offered us the opportunity to network the entire security system through three separate buildings via 100.7 Heart fm's existing IT network with no need for extra cabling."
"Both systems are operating well under full capacity, enabling us to expand the number of cameras or access points in the future if they wished. We looked at a number of other options, but in terms of meeting the client's specific needs as well as their budget, the Bewator solution easily came out on top."
Ashfield Security has installed the Entro 5 system with 21 access points, each with proximity readers for maximum convenience to users. Entro is a PC-based system, which means that administration and control can be operated through the station's IT network with no need for additional hardware. With around 150 people having access to the building, with this security system the station's staff can readily vary each individual's access rights depending upon their seniority, function and the time of day. As staff joins or leave it is a simple matter to programme or reprogramme their access rights on the administration PC.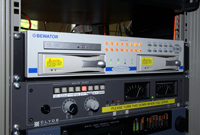 Images from the seven cameras are cabled back via coax to the Eventys Lite 16-channel DVR, which records these images. Image frequency and compression rates can be varied, so allowing images to be recorded at maximum efficiency - when there is no motion, frequency rates are slower. When motion is detected and at busier times, high quality video images are captured. Furthermore, the Eventys Lite keyboard has a three-axis joystick, giving full control of the cameras.
Eventys Lite is fitted with up to two removable hard disk caddies to allow easy removal and storage of sensitive evidence. The DVR is available with either a single 300GB drive or 600GB total in dual drives - at 100.7 Heart fm the system has been upgraded to give 600GB of storage.
The built in network connection allows video to be easily exported for viewing on a PC, which at 100.7 Heart fm allows anyone with access rights to the IT network to monitor them. During quiet times, staff responsible for security can see not only see exactly who is in and outside of the building, but also remotely control access for staff arriving.
There is also the capability for images to be viewed remotely over the Internet should the management ever require this.
The specification of the Entro 5 and Eventys Lite has provided 100.7 Heart fm with a security system that has - in the words of Ashfield Security's Chris Barnard's - "easily exceeded the client's requirements and at a price that other systems could not match."
Staff at the station now have a discrete but highly effective security system in place that provides maximum security for their staff and equipment and which has been installed through their existing IT network with no disruption to their business.
Download PDF version