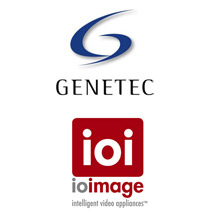 ioimage intelligent video devices to run on Genetec's IP video management solution
ioimage
, the pioneer of intelligent video appliances designed for simplicity, announced it has entered into a technology partnership with
Genetec
, a leader in innovative networked security solutions.
As a result of this partnership, ioimage's video analytics devices can now be seamlessly integrated into Omnicast™, Genetec's IP video surveillance solution, enabling surveillance video to be easily viewed, archived and mined.
Omnicast™ provides seamless management of digital video, audio and data across IP networks for a wide range of markets including transportation, education, retail, gaming, government and more. ioimage's intelligent video encoders and cameras complement Genetec's solution by providing real-time detection, alert and tracking of intruders, vehicles and threats, transforming video surveillance into a proactive, event-driven process.
"The seamless integration of our IP solutions with ioimage advanced edge and centralized devices leverages the numerous benefits of networked security," said Michel Chalouhi, Director of Product Management at Genetec. "This joint solution gives our customers a very efficient way to strengthen and streamline their operational security as well as a pro-active approach through a unified security interface."
"Our alliance with Genetec underscores ioimage's commitment to provide easily configurable, highly reliable, interoperable intelligent video solutions that deliver added value and reduce the total cost of ownership for businesses of all sizes," said Dvir Doron, Vice President of Marketing for ioimage.
Download PDF version