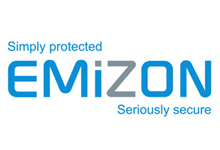 The latest TCD enhancements add PSTN connectivity and a global roaming SIM to its existing IP capabilities
Platinum One makes the
Emizon
TCD the only signalling device required, ready for whatever the engineer is faced with on-site. The latest TCD enhancements add PSTN connectivity and a global roaming SIM to its existing IP capabilities. It means that the TCD supports all EN signalling grades, all IP, PSTN and GPRS network service providers and all panel connectivity modes. In addition, all TCDs can access Emizon's comprehensive online capability including the upload download (UDL) service for remote panel maintenance and site diagnostics for problem solving. Emizon's 24/7 global service desk supports all capabilities, allowing Emizon users to speak to a trained member of staff at any time. Platinum One will be demonstrated at
IFSEC
, on Stand G10, Hall 4.
Adding PSTN connectivity means that Emizon IP can be specified on sites with no broadband. Where PSTN is used, 'always-on' connectivity will be provided by using the GPRS 'IP' path as the primary path with the PSTN used as the secondary. The ability to upgrade from PSTN to IP in seconds makes the TCD the single, cost-effective and future proof solution for all alarm applications.
The TCD's global SIM provides GPRS connectivity to the world's largest service providers; Vodafone, T-Mobile, Orange and O2. As well as enhanced security the ability to roam between global network providers means that Emizon IP is ideal for national and international customers demanding a reliable and consistent service.
"Emizon has always been committed to supporting the security industry as it migrates to the digital environment, easily and cost-effectively, whilst protecting the security needs of customers in the long term,"
explains Bob Tuck, Managing Director.
"The capability to connect via PSTN and any GPRS network is further demonstration of this commitment, making it easy for one device to cover all alarm specifications."
Download PDF version