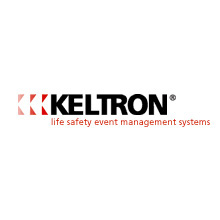 The Keltron LS CSR is an efficient solution for facilities that monitor security and fire alarms
Keltron Corporation, a leading provider of life safety event management solutions, introduces the Keltron LS CSR Ethernet Alarm Receiver to its family of Ethernet (IP) signaling solutions. The Keltron LS CSR receiver meets the mission critical needs of the life safety industry by providing direct and efficient access to life safety event information to enable optimal incident response.
As the alarm monitoring industry moves away from legacy telephone line and other legacy transmission technologies, the Keltron LS CSR receiver and Keltron LS Net transceivers effortlessly replace digital dialers and digital receivers, to provide a migration path to faster, more accurate Ethernet (IP) alarm monitoring and signaling.
The Keltron LS CSR is an efficient solution for facilities that monitor fire and security alarms at an on-site security office, operations centre or facility entrance centre. Enabling the facility to leverage its existing investments in software and Ethernet (IP) infrastructure, the Keltron LS CSR receiver interfaces to standard software automation systems, transmitting alarm panel information in the most popular Contact ID formats.
In addition to benefitting multi-building facilities, the Keltron provides central station companies with an efficient method of adding Ethernet signaling to their existing monitoring technologies. In mountainous topology and areas where telephone and radio frequency methods are not viable, the central station company can add a Keltron LS CSR receiver to receive signals from subscribers with Ethernet communications capabilities and a Keltron LS Net transceiver. The system is easy to install with fast check-ins and a high degree of reliability.
Availability
The Keltron LS CSR Ethernet Receiver is commercially available and will be on display at the Keltron booth #1011 during the upcoming NFPA Conference and Exposition in Chicago, IL, June 10-12, 2013.
Download PDF version