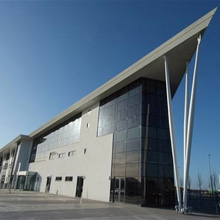 Chubb has installed a new integrated TCP/IP compliant security system at Wakefield College's recently opened Skills Xchange campus
Chubb
has installed a new integrated TCP/IP compliant security system that has been interfaced with the TCP/IP local area network at Wakefield College's recently opened Skills Xchange campus, substantially reducing the capital cost and minimising the disruption that may have resulted from a standard installation. Chubb Security is part of
UTC Fire & Security
, a unit of United Technologies Corp.
To protect students and staff, M & E Consultants Stephen Hunt Associates, designed a system for Wakefield College that includes CCTV, access control and intruder detection technology at the new campus. Chubb was appointed alongside LJ Monks to complete the systems install.
By using a LAN network, the college has significantly improved the speed and efficiency with which images and data can be distributed around the network, and therefore the speed of response should an incident occur.
Chubb's expertise in delivering major projects was a key factor in its appointment. Its Integrated Technologies design team includes Microsoft and Cisco-qualified software and network engineers. They ensured the integration of the security system into the existing TCP/IP LAN infrastructure was correctly designed and implemented, according to Mike Penty, the College's IT manager: "We needed a security provider that could design and install an end-to-end solution and had engineers who were familiar with IT networks," he said.
"Chubb took the time to understand our environment, and the system that has been installed gives us confidence that our students, our staff and our new facility have the best protection available."
The installation comprises more than 80 cameras, a mixture of both fully functional Pan Tilt Zoom (PTZ) and static domes, all housed in vandal resistant material. Images from each of the cameras are stored digitally and can be retrieved easily
A system designed for Wakefield College's new campus includes CCTV, access control and intruder detection technology to protect students and staff
for future use. The access control system has readers at 124 doors allowing it to monitor the movement of students and staff around the campus.
The £23 million Skills Xchange completed by Waystone earlier this year contains new state of the art provisions for Hair and Beauty Therapy, IT, Construction, Motor Vehicle and Engineering, which were previously offered at Wakefield College's Whitwood Campus.
The Skills Xchange is situated on Waystone's award winning 338 acre Glasshoughton site that is considered a blueprint for successful regeneration. The site of a former colliery Glasshoughton now boasts its own railway station and is home to the famous Xscape leisure complex, Junction 32 retail outlet village, a hotel, restaurants, ASDA, B&Q as well as residential and business communities.
Download PDF version