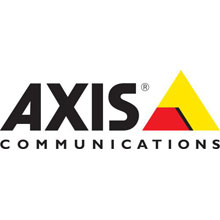 Network video cameras can meet many of rail surveillance challenges with their varying functionalities
Network video can help provide a solution to the changing CCTV surveillance needs of the rail sector claims Axis Communications, the global leader in network video.
Faced with a daily battle against onboard violence and vandalism, rail authorities have an increasing need for surveillance, both onboard trains and at stations, to help protect the safety of their staff and passengers as well as the infrastructure itself to ensure services keep running.
David Thomasson, Northern Europe transportation business development manager, Axis Communications said: "The surveillance needs of the rail sector are diverse and extremely complex and have changed over the last decade."
"Cable theft is increasingly a major security issue for this sector. The British Transport Police has claimed that it is their second highest priority after terrorism and Network Rail revealed that its passengers were delayed by a total of 6,088 hours last year because of it."
"Rail authorities continue to fight an array of security issues on a daily basis, while customers expect the same level of security protection from the moment they arrive at the station to start their journey until they disembark at their destination."
In addition to these daily challenges, rail authorities also have to meet the diverse surveillance needs of various organisations. The station could be owned by one company, the trains operated by another and the infrastructure, track and tunnels owned by yet another. The range of functionality offered by network video cameras can help the disparate organisations that operate a rail network meet many of these surveillances challenges they face."
The role played by surveillance in providing the vital footage which underpins all of these organisations' needs from security, safety and operational management functions is crucial.
Network video cameras offer rail authorities a variety of functionality that can provide onboard surveillance, help solve footage storage issues and provide detection in difficult light conditions:
Corridor format - In many surveillance situations, a rail operator may need to monitor an area that is more vertical than horizontal in shape e.g. platforms, passageways and escalators. The traditional landscape format is not the optimal solution as it creates video streams where a large part of the field of view - specifically the sides of the image is redundant. Network video enables corridor format and helps to maximise the field of view and potentially reduce the number of cameras required.
Edge storage - This is where the recorded video is stored, 'onboard' the camera. It is particularly useful for remote locations where there is intermittent or no network availability.
Thermal imaging - Detection is a fast growing area of surveillance and thermal cameras offer 24x7 detection in extreme conditions such as complete darkness, smoke and areas in shadow.
Download PDF version