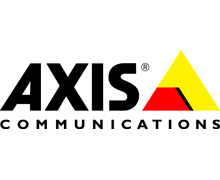 The Axis Communications cameras provided high quality footage, enabling police to identify the thieves
Thieves were arrested after breaking into one of Scotland's leading refrigeration and catering equipment suppliers thanks to images captured by network video cameras from
Axis Communications
, the global leader in the network video market.
Glasgow-based HiTec Refrigeration was first alerted to the break-in when its alarm was triggered, but by the time director John Morton arrived at his yard, the thieves were long gone. Luckily, evidence was captured by the five Axis surveillance cameras installed at various locations on the premises.
John Morton, director at HiTec Refrigeration said: "When I first arrived at our premises I quickly realised this wasn't a false alarm. We were lucky that our Axis cameras had captured the thieves' progress despite their best efforts to disable them. We were able to provide the police with really good quality footage which clearly reveals the thieves' identities. It was on the basis of these pictures that arrests were made."
John discovered that valuable items had been taken and that the company's safe had been forced open, but as no cash is kept on the premises the thieves were left disappointed. Had the thieves not been disturbed by the alarm, it is believed that expensive IT equipment would also have gone as plugs and cables had been pulled out.
Phil Doyle, regional director, Northern Europe, Axis Communications said: "Advances in surveillance technology mean that it has moved on a long way from what many refer to as simply 'CCTV'. The network cameras we have developed over the last 15 years are designed to make capturing, storing and sharing images simple."
"We use up-to-date high resolution cameras to ensure that our customers have equipment that delivers tangible business benefits. It is fantastic to hear that arrests have been made on the back of these images."
HiTec Refrigeration is so impressed by the role the cameras played in this break-in, it has already invested in further network cameras.
Download PDF version