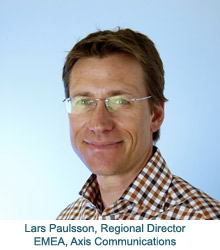 Axis Communications, the global leader in the network video market, recently announced the appointment of Lars Paulsson as Regional Director for the Europe, Middle East & Africa region (EMEA).
Paulsson brings more than 15 years of brand strategy and marketing expertise in international roles to Axis to further strengthen the company's EMEA organisation. Paulsson works out of the Lund office (Sweden) and reports directly to Bodil Sonesson Gallon, Vice President, global sales of Axis. The appointment reflects the importance of the EMEA region, where sales accounted for 51% of Axis' total revenue for Q4 2007 and where its network cameras dominate with a market leadership position of 46%.
As Regional Director EMEA, Lars Paulsson will be responsible for the company's strategy and business development across the region that generated sales growth of 38% in 2007. Paulsson is looking forward to supporting the EMEA team to maintain the positive growth trend and retain regional leader status in the changing network video market.
Prior to joining Axis, Paulsson held various marketing and sales positions within ASSA ABLOY, a manufacturer and supplier of door opening solutions, and most recently as vice president of marketing and product management with global responsibilities for the company's brands Besam, EntreMatic and Dorman.
Paulsson's diverse and extensive background in marketing and brand strategy includes working as a management and brand strategy consultant at The Core Company / TNS Gallup with major clients including Daimler Chrysler, Arla Foods and Sanitec group, plus various positions from management consultant to brand management within Scan Foods and Kraft Foods.
Bodil Sonesson Gallon, vice president, global sales of Axis, commented, "Lars is a recognised industry expert with management experience in an international landscape. His experience and knowledge will be critical to continue leading the network video market with our partners."
Steve Gorski, managing director, Axis Communications (UK) Ltd, commented, "We look forward to working with Lars and to benefit from the breadth of his experience as we continue to grow our business further."
Download PDF version