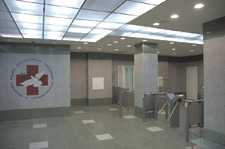 Axis Communications, a global leader in the network video market, has installed cutting-edge network video surveillance systems in the newly opened surgery ward at the Institute for Children's Emergency Surgery and Traumatology in Moscow. The equipment helps provide high-quality remote monitoring of patients, as well as ensures tighter security of the hospital premises.
For the special medical video surveillance system, 119 Axis network cameras were deployed in all patient wards to enable the nurses on duty to monitor the wards remotely from a computer on their post and quickly assess which patient in which ward requires medical care. The cameras installed in the wards are equipped with microphones that enable two-way communication between a patient and medical staff.
The hospital's security surveillance system uses 93 network cameras installed both inside and outside the building: in the lobby, corridors, near all entrances, exits, elevators, as well as in staircases and parking lots. The security surveillance system enables around-the-clock remote monitoring of all of the hospital's premises. The cameras are connected to movement and alarm sensors and are constantly in a 30-second pre-recording mode.
"We are proud to deliver our technological solutions to the Moscow children's clinic and are confident that the medical staff will appreciate the quality, convenience and cost-efficiency of our products," said Stanislav Guchia, Area Sales Manager Russia CIS at Axis Communications. "This was a project of utmost importance for Axis and we look forward to continuing successful cooperation with the Institute, as well as working with other Russian organizations."
Implementation of the high-tech video systems as part of the engineering system was performed by EcoProg, a Russian engineering solutions provider.
Download PDF version