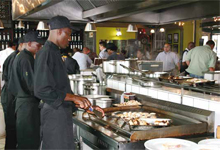 Technonet selected the Axis M1011 Network Camera for the restaurant

Mission

Chefs In Motion, an up-scale eatery in the leafy suburb of Lonehill, Northern Johannesburg, has been serving mouth-watering meals and providing delectable catering for the past five years. With a constant flow of diners enjoying a private or corporate function, a romantic evening with a loved one or even a few drinks with friends at the spacious bar, the restaurant bustles constantly. Owner and Chef, Mike Varrie, believes that the safety and security of his patrons can only enhance their experience of dining out. With the alarming increase in mall and retail store robberies, he believes that it is imperative to adopt a proactive approach to security. Mike opted for a surveillance solution that is not only unequivocally superior but also unobtrusive and aesthetically pleasing to replace the existing outdated, inferior analogue cameras.

Solution
Axis Camera Station IP surveillance software can view and record for up to 50 cameras.
Technonet, a company specialising in network surveillance installations, selected the
Axis
M1011 Network Camera
for this installation. The functionality, affordability and smart design of these small but powerful cameras make the Axis M1011 the ideal choice for restaurants, homes and small businesses. The strategically placed Axis M1011 cameras use progressive scan technology to ensure superb image quality, even whilst people or objects are in motion, without blurring or distortion. Another crucial requirement was the ability to monitor the footage from a remote location as Mike did not want to be bound to his office to view the cameras. Individually configurable video streams in H.264 sustains image quality and frame rate to provide effective streaming from any location, allowing Mike to monitor his restaurant from anywhere at any time.
Axis Camera Station
functions as the recording system for the cameras. Offering a simple installation and setup process and efficient management of the attached network cameras, this IP surveillance software can view and record for up to 50 cameras. Axis Camera Station utilises camera-based motion detection to save bandwidth and disk space, locks prioritised recordings and has a bookmarking function for easy access to video of interest. With multiple search functions of recorded events and simple playback retrieval, the video management software ensures that sophistication and exceptional functionality is still easy to operate and effortless to expand. The camera system is protected by a UPS that offers backup against power outages and a terabyte of storage allowing for the retention of 14 days of historical footage without compromising on image size, video quality or frame rate.
Result


The reduction of pilferage and stock theft has been a positive, unintentional consequence of the installation. Staff is aware that their behaviour is being monitored and this, therefore, decreases the temptation to pocket smaller items that would not normally be missed. The cameras allow for the efficient management of customer complaints and provide additional security for patrons. Another enormous benefit is the ability to have eyes on all parts of the restaurant simultaneously. Instead of having to physically move between stations in the restaurant, Mike is now able to rely on the cameras, leaving far more time to concentrate on what he does best: fill stomachs with delicious cuisine!
Download PDF version