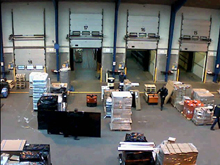 Milestone's XProtect Corporate 3.1 with the new Smart Client 5.0 brings a new era in ease of use of CCTVs
Milestone Systems, the open platform company in IP video management software, is exhibiting at the ongoing IFSEC security trade show in Birmingham, UK, May 10-13. Show attendees can see first-hand the newest XProtect™ offerings, including the Smart Client 5.0 with its industry-breaking features such as Sequence Explorer. Milestone Solution Partners Briefcam, DataDirect Networks, OPAX and Rimage will also be presenting integrations with the Milestone platform which powerfully improve surveillance in the areas of fast video synopsis, mega video data storage, analytics detection, and automated export for long-term archiving to DVD or Blu-ray.

Milestone's XProtect Corporate 3.1 with the new Smart Client 5.0 that introduced a new era in ease of use, was recently released with a phenomenal number of webinar participants from 68 countries who wanted to see where the new generation of GUI functionality is headed. This will be demonstrated live at IFSEC in the Milestone stand F90 in Hall 4 of the NEC.

"When we launched the new Smart Client we asked end users to 'Demand Perfection' in a GUI challenge. Our vision at Milestone is to provide a generic incident management capability in XProtect that can hook into any other kind of management system and other devices and utilities. It makes strong integrations with the Milestone GUI innately connected to its own engine in the architectural design - thus making it a stable, powerful platform to continue building upon," explains Christian Bohn, Head of Product Management at Milestone System. "Milestone Solution Partners illustrate how the open platform helps customers get the most out of their surveillance system."
Milestone currently counts 236 solution partners who have developed integrations with XProtect open platform IP video management software
Milestone currently counts 236 solution partners who have worked with the company's SDK to develop integrations with XProtect open platform IP video management software. Four of these partners will be showing their solutions in the Milestone booth at IFSEC: BriefCam, DataDirect Networks, OPAX and Rimage - all shining examples of innovative value-adding technology that helps customers get the most out of IP video surveillance with an open platform.

BriefCam summarises hours of surveillance into a "brief" that takes only minutes to watch with their unique Video Synopsis solution. New features for reviewing, analysing and indexing surveillance camera content have just been released including Area of Interest, a sophisticated new user interface, and a further reduction in synopsis time of 65%. Come see it in action at IFSEC, integrated with the Milestone XProtect software platform.

"BriefCam's Video Synopsis answers the need to browse the ever-expanding amount of video generated daily, by taking advantage of the operators' eyes, experience, and instinct - after all, our brains still outperform the most powerful supercomputer by a factor of a million plus. BriefCam leverages human intelligence so operators can review, identify, and investigate more easily than any computer, make decisions faster and take action as needed," says Gideon Ben-Zvi, Chairman, President & Co-founder of BriefCam. "Milestone is helping to realise the BriefCam vision of Total Video Review - to make it easy to review all surveillance in full at the beginning and end of each security shift."

DataDirect Networks (DDN) offers scalable, megapixel camera surveillance storage solutions that are 1,000 times more scalable than traditional iSCSI solutions, for simple scale-outs of security installations. File-based and cloud solutions provide next-generation flexibility and simplicity to ensure responsiveness. Partnered with Milestone for strategic projects worldwide, DDN storage helps significantly reduce space, energy and other costs by up to 50% while delivering enterprise availability and disaster recovery.

"Increasing video resolution and lengthening retention demands are ushering in an age of extraordinary surveillance storage requirements. Traditional direct attached and scale-out iSCSI technology is built from 20-year-old technology that's not optimal for the megapixel era. Leveraging the expertise and technology developed from serving the world's largest content storage environments, DataDirect Networks addresses these challenges with a full portfolio of next-generation, scalable video storage solutions," explains Jeff Denworth, Vice President of Marketing at DDN.
XProtect can be combined with IP network cameras, people counting, car park management, number plate recognition systems, etc
OPAX will show their award-winning OPAX Video Content Analysis system with the SAAB stereo cameras, fully integrated with Milestone. "Milestone is one of our most important partners: a majority of our projects are carried out by a Milestone partner using the XProtect open platform. There are currently dozens of installations of OPAX analytics all over the world, from railway perimeter protection to ports, airports and military installations," reports Matts Lilja, CEO at OPAX. "Because analytics have been oversold and marketed with incorrect business values for years, it is important to prove that our system works and delivers what we promise. Those who were previously let down by other VCA products have come to us - and they are now our satisfied customers."

Rimage will demonstrate the Rimage Surveillance Software Suite that manages storage and distribution of digital content, solving long-term archiving issues in surveillance. "With a growing number of digital surveillance cameras, increased image quality and frame rate requirements and complicated retention standards; organisations and companies are facing critical data management and archiving challenges," states Mike Schoeberl, Rimage's Vertical Market Manager for Surveillance. "Rimage has integrated with the Milestone XProtect™ platform solving these and other critical content distribution and long-term archiving issues."

Rimage XProtect Publisher and XProtect Archiver are integrated feature-rich solutions that completely automate the process of exporting digital video content for publishing and managing archiving to DVD or Blu-ray™ Discs. Optical discs are a world-wide standard, have a shelf life of 100+ years, and are durable, secure and portable. With Rimage's direct-to-disc printing technology system users can print a summary of the contents on each disc along with any applicable metadata, enabling recipients to identify the contents without having to mount or insert the disc.

Milestone also presented with Axis at the IFSEC New Technology Seminar at 3:45 on Monday, May 10th. A multiple integration installation from an 18-month rebuilding project at the Douglas Village Shopping Centre in Cork, Ireland, will be described and illustrated with a video by Security Media Publishing. Hear about the XProtect open platform combination with IP network cameras, people counting, car park management, number plate recognition, access control and intercoms - all viewed in the central command centre, as well as on mobile tablets, phones and through other remote connections.
Download PDF version
Download PDF version