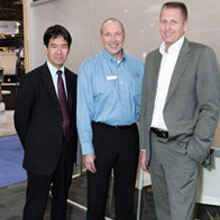 Sony Corporation, Bosch Security Systems and Axis Communications joined together to form ONVIF
First launched in 2008 with the aim of facilitating the development and use of a global open standard for the interface of network video products, in just two years the Open Network Video Interface Forum (ONVIF) has made great strides ahead. Now with over 240 members, at the recent Security Essen exhibition ONVIF showcased its latest open-protocol products and outlined plans for further integration going forward.

Since their introduction in the late 1990s, IP-based security systems have delivered many new benefits to the market; including megapixel and HDTV image quality, video analytics, and a scalability and flexibility beyond the capability of analogue systems. Nonetheless, IP-based systems have faced challenges concerning integration. Historically, with no global standard defining how network video products - such as cameras, video encoders and video management systems - should communicate with each other, the various components only worked seamlessly together when they were from a single manufacturer. Often, when combining best of breed components from a number of manufacturers, a vast amount of integration work was necessary to ensure that the system operated effectively and the products perform at their full potential.

Recognising this limitation, in 2008 Axis Communications, Bosch Security Systems and Sony Corporation joined together to form ONVIF, the leading standardisation initiative for IP-based physical security products. "The goal was simple," says Jonas Andersson, Chairman of ONVIF. "We wanted to create a standard to facilitate the integration of various brands of network video equipment, and to help manufacturers, software development and independent software vendors ensure network video product interoperability regardless of manufacturer. We were committed to supporting the ongoing shift from analogue to IP surveillance in the security market, and knew that in creating the standard, it would deliver end-users greater flexibility of choice, enabling them to select products from different manufacturers in order to develop systems that best meet their needs."

Soon after its launch, the non-profit ONVIF forum released test and conformance tools for ONVIF product self-certification. "The response among manufacturers was great," Jonas continues. "In the space of just two years, ONVIF now has over 240 members offering over 440 ONVIF conformant products."

"Key to this rapid uptake was the delivery of innovative and well-designed specification on common standards such as Web Services and the test of conformance tools with Developer's Plugfests," believes Jonas. "Furthermore, the royalty free license model has made it easy for ONVIF members to launch conformant products with the ONVIF interface."

"With more than 440 ONVIF conformant products already readily available on the market, we are now seeing ONVIF being introduced in Requests for Proposals, which gives some indication of the level of esteem in which the standard is held in the marketplace." The benefits are clear: with ONVIF conformant products, installers reduce the time spent to ensure that all video components work together as one system.
ONVIF demonstrates importance of open protocol at Security Essen 2010
System integrators
and end-users alike benefit from the cost savings and future-proof their investment when the time comes to change any of the components. If the system needs to be expanded, or part of it needs to be replaced, end-users can have the choice of product, rather than be restricted by manufacturer.
"To support the integration, we have hosted a number of Developer's Plugfests or Cloudfests, enabling ONVIF members to test their products together to learn how their equipment is sending or receiving video information from one another. This has led to further innovation in the marketplace,"
says Jonas.
In April 2010,
ONVIF announced that it would be extending its scope to cover the physical access control market
. Driving this extension was the need for open-protocol IP access control products, as Jonas continues:
"When ONVIF launched, the clear focus was on network video. However, with several members working to deliver full security systems, and the arrival of new members offering IP access control, it became clear that IP access control companies were experiencing the same need for interoperable products and would equally benefit from having an open standard. The possibility of joining ONVIF to actively influence the shape of the new specification encouraged the arrival of further IP access control members."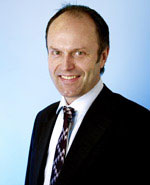 Jonas Andersson, ONVIF Chairman
A new working group has been tasked with the creation of an ONVIF specification to simplify the integration and installation of IP-based physical access control systems with network video. This part of the specification is expected to be released to the market in 2011 and will further solidify ONVIF's position as the leading IP-based physical security systems initiative with a clear focus on the needs of integrators and end-users.
So what's next for ONVIF?
"The Forum has been very successful when focusing on one area at a time,"
says Jonas.
"When building each of the standards, we have concentrated first on releasing the specifications before moving onto the next step. So we made sure that the video specifications were completed before moving onto access control. There is of course scope to extend the standard further still with the incorporation of intruder products, which we will look at after the launch of the expanded specification for IP video and access control in 2011,"
he concludes.
Download PDF version