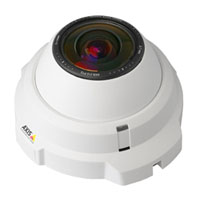 Axis Communications, the global leader within network video, has collected the prestigious IP User Group product innovation award for the AXIS 212 PTZ Network Camera. The IP User Group award is nominated and voted for by thousands of IP User Group members across the globe to recognise innovation within IP-based security technology.
The award was presented at the IIPSEC 2008 awards held at the Hilton Hotel in Coventry. The AXIS 212 PTZ Network Camera features many groundbreaking innovations including full scene overview facilitated by instant, one-click pan/tilt/zoom. The camera also eliminates wear and tear associated with PTZ cameras, as it has no moving parts.
Since its launch in May 2006, the AXIS 212 PTZ has received numerous accolades including the Detektor International Award 2006 for 'Best CCTV Product' and first place in the 'CCTV product' category at the GIT Security Awards 2006 in Germany. The camera has seen strong demand particularly in the retail and banking sectors.
Steve Gorski, managing director, Axis Communications (UK) Ltd, commented, "I was delighted to receive the IP User Group award on behalf of Axis at the awards ceremony. This award is special to because it was voted by the membership of the IP User Group and represents public recognition for the AXIS 212 PTZ. This camera is a real success and receiving this award encourages us to keep on introducing new, exciting products to the market."
Axis has also announced that it will be launching a new version of the AXIS 212 PTZ Network Camera, which incorporates a vandal-proof outer housing. With its metal base and durable, transparent cover the camera provides excellent protection against vandalism. The AXIS 212 PTZ-V will be available through Axis' distribution channels in March.
Download PDF version