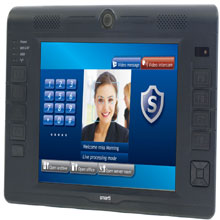 Smarti Hybrid is portable access control unit for maximised security
Last year on IFSEC,
TAB Systems
launched the new smarti Guardeon unit and won the Best Access control Product award . This year at
IFSEC 2011
Tab Systems plan to launch a new portable access control unit and a TCP/IP Relay controller called smarti TCP/IP Relay Box.
Smarti Hybrid is a portable access control, presence tracking and building automation solution. For mobility the unit is equipped with WIFI, mobile connection (HSPA/UMTS) and a lithium ion battery. This means that an authorised user (for example a security guard making his round) can easily take the unit with him to access different restricted areas and track his presence in the facility. It enables the user to use one access control unit to control access to multiple restricted areas. Thus it can significantly lower the costs for access control. Lets say that a company has a server room, archive room and a vault.
The company can use three biometric readers or one one smarti Hybrid unit and a smarti TCP/IP relay box. A person wishing to enter the server room takes the Hybrid unit and in fornt of the door presses a push button. The TCP /IP relay box recives the signal from the push button and sends a command over WIFI using a secure protocol to the Hybrid unit to start identification. The person is asked to identify using his PIN and than face. After succesfull identification smarti® sends the TCP/IP relay box the command to open the electronic lock. An additional motion detector could be used inside the server room to trigger a second identification on the Hybrid unit to check if the right person entered the server room.
The Hybrid unit can also be used by the security guards when making their rounds of a premises. On check points they can press push buttons and then use the smarti Hybrid to identify using PIN and Facial identification. The built-in high resolution camera provides reliable identification and also gives a time and date stamped visual record of all events thus preventing abuse of cards, PIN codes, keys...
The Hybrid unit can also be used by the security guards when making their rounds of a premises.
High flexibility allows you to tailor your security level to meet your requirements now and change as your needs change. You can use any combination of PIN codes, biometrics, and external readers to reach these required levels. An additional advantage of this great product is the integration of multiple additional features like video messaging, video intercom, video surveillance and IP phone into one compact portable device for a very reasonable price.
It is protocol independent and with the use of a smarti TCP/IP relay box it can be used to control, electronic locks, alarms, push buttons, sensors and other electronic devices through a secure protocol using LAN, WIFI or UMTS. The unit can also send an SMS or an e-mail. The unit can be stand alone or networked. Designed with flexibility in mind, the smarti Hybrid can be used for many applications within: banks, server rooms, archives, labs, corporate offices, military...While still lowering the costs for access control.
Download PDF version