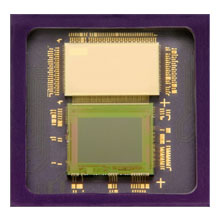 Seawolf chip from Pixim
Pixim Inc.
, a leading provider of image sensors and processors for enterprise security cameras, announced that it has become the exclusive, worldwide distributor for Kiwi Semi's KA909A PixMate™, a companion chip for Pixim's latest product offering, Seawolf. By integrating multiple discrete components, the PixMate chip greatly increases the flexibility of system designers to develop compact Seawolf camera modules by further optimising overall cost/performance and manufacturability.
As exclusive worldwide distributor of PixMate, Pixim will simplify the design, support, and purchasing process for its customers. Further, Pixim will be able to directly release and support reference designs and modules based on the PixMate product.
"Pixim's camera customers will find PixMate a valuable solution,"
says Luc Lussier, Kiwi Semi's CEO.
"Jointly defined with Pixim's application experts, PixMate creates a smaller PC board footprint by replacing a large number of active and passive devices on Seawolf camera modules."

"Pixim has enjoyed a close working relationship with Kiwi Semi since its founding over a year ago,"
explains Jeff Jones, director of product marketing for Pixim.
"Kiwi Semi's commitment and execution on the PixMate chip has enabled Pixim to get to market quickly with an optimised solution which addresses our customers' critical needs."
Download PDF version