The Aquaparc, in Bouveret on the shores of Lake Geneva, is Switzerland's largest water leisure centre and a major tourist attraction. Recently Compagnie des Alpes, the owner of the facility, commissioned Valimatic Engineering SA, Kaba and its partners to provide a cash point solution that would fully manage every cash point throughout the park.
The challenge in this project was to guarantee that the existing 1,000 lockers with LEGIC technology could be refurbished, and to incorporate them into the overall security solution.
The LEGIC technology used for the application, incorporated into a wristband, gives staff, daily visitors and season-ticket holders easy access to the various areas of the park, and allows them to handle cashless purchases at the tills, despite wearing only a swimming costume.
One of the many other functions in the management programme provides real-time data on the various park activities, such as the current number of visitors, or daily numbers compared with budgeted forecasts.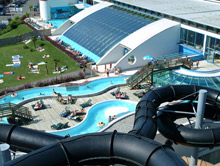 While season-ticket holders can keep their wristband, with their available balance recorded on it, daily visitors must dispose of theirs at the exit using a fully automated operation, once the remaining balance has been paid at one of the exit automats. This unique and complete solution also manages the ticketing, warehouse (barcode), restaurant and stock control (F&B and boutique) applications.
The solution is unusual for its simplicity. Installation and training were accomplished within an extraordinarily short period. After just fifteen minutes the fastest learners were able to handle the cash tills, and the change from the old to the new system was carried out in just 12 days.
Benefits of the system:
The use of a LEGIC wristband, a single data medium for daily visitors, season-ticket holders, and employees for access control and time recording purposes

In/out turnstile control
Customised reporting, business intelligence
Complete visitor data, reissue of lost data cards
Control over lockers including management system for lockers requiring maintenance
Automatic access package meal + entrance
E-ticketing and Picsolve photo interface
Calc Menu interface
Hand terminal stocktaking
Easy to learn
Support on first day of operation
Technical support 7/7, hardware and software maintenance contract
Remote maintenance via Internet
Download PDF version