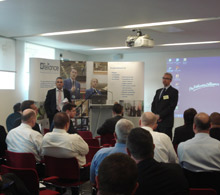 Reliance High-Tech have announced they will host a seminar titled "Smarter Solutions, Smarter Savings" in Glasgow
Reliance High-Tech
have announced they will host a seminar titled
"Smarter Solutions, Smarter Savings"
on Thursday 24 September 2009 at Hampden Park, Glasgow. The half-day event will look at how organisations can blend a combination of technology and manned services to reduce the cost of security.
Tara Farley, Reliance High-Tech Limited, Marketing Manager, said, "We ran a similar event earlier this year in England and due to demand we are now pleased to be able to offer this event for security professionals in Scotland. The economic climate continues to put pressure on security departments to cut costs and many are now looking to combine manned services and electronic security. This event will look at how, by taking this approach, an organisation can actually increase protection and deliver a quick return on investment with decreased on-going cost. By attending the seminar, delegates will learn how to implement a combination of risk assessments, technology and remote monitoring to realise these efficiencies and savings".
Leading risk management consultants Perpetuity Group will headline the agenda and global security technology vendor, Honeywell, will present a business case utilising IP-enabled electronic security and video analytics to drive cost reduction. Customer case studies from IBM UK Limited and West Lothian Council will demonstrate how they are combining manned services with integrated security systems.
The event will host a demonstration area where Honeywell will be showcasing their suite of the latest IP-enabled electronic security and fire systems while delegates will also have the opportunity to see Reliance Protect - an end-to-end lone worker protection solution - and the recently launched battery and wireless electronic solutions for vacant properties.
Download PDF version
Download PDF version