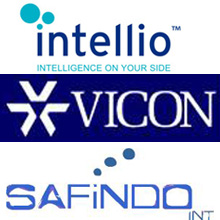 Vicon Industries and Safindo International teamed up with Intellio Ltd. in hopes of becoming leading suppliers of intelligent solutions in their local markets
Intellio Ltd., a household name in the security industry, is hopping continents to expand its business of selling its self-developed intelligent surveillance cameras. A new partnership has been sealed between the Hungarian company and the Australian subsidiary of Vicon Industries (USA) and Safindo Import & Exports cc. of the South African Republic, granting these companies the status of "master distributor" of Intellio security cameras.
"Despite the economic slump there has been a growing excitement about our intelligent security, retail and traffic surveillance solutions worldwide, due in part to a string of successful applications both in and outside Hungary," says János Kópházi, CEO of Intellio. Our two new partners have teamed up with Intellio in hopes of becoming leading suppliers of intelligent solutions in their local markets in the security, retail, traffic and museum surveillance field.
Safindo International is a dynamically expanding company, which is renowned for importing innovative, cutting-edge technologies into the region. "Our main focus is security surveillance, since the local government has set out to crack down on local crime. Secondly, we have the Football World Cup coming up in 2010, which is a huge opportunity for us," says Thulani Zwelihle Ngubane, CEO of South African Safindo International. "Our aim is to take part in installing the security system of the 2010 World Cup with Intellio solutions. We are happy that Intellio cameras can be put to use outside the security field, as well, which is quite unique in our region," says Ngubane. "Given these strengths we expect to see strong demand in the near future."
Vicon, established in 1967, is an American company developing, manufacturing and distributing security solutions that has conquered 40 countries worldwide. Its Australian branch, Vicon Industries is also distributing products of leading brands. Intellio's intelligent cameras have been in their product portfolio since early 2009, with the intended purpose of setting a strong competition against solutions currently offered in Australia.
Download PDF version
Download PDF version