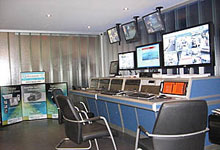 MULTIEYE HYBRID/NET Software/Recorder were presented in the "GCO control-center"
From 25th to 26th June, the second in-house exhibition of the company
GCO
, distribution partner of
artec technologies
since 2008, took place in Wevelgem, Belgium. Around 250 qualified visitors from Belgium and the Netherlands presented a wide variety of security products by representatives of the manufacturers and also of GCO in the newly designed "GCO Security Village" in a very attractive and professional atmosphere.
"From artec technologies point of view, it was an extremely successful 2-day event, where we could not only show the technical advantages of the MULTIEYE HYBRID/NET software and recorder, but also the first features of the software upgrade which will be available from 22.08.2009. Due to the very positive reception, we will take place at this in-house exhibition at GCO in 2010 again," annotated Jens Ringlstetter, VP Sales& Marketing at artec.
Download PDF version
Download PDF version