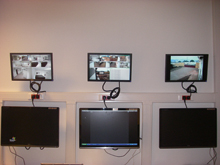 The artec system comprises two MULTIEYE® NET- MX network video recorders
Back in the middle of January 2010 the MTN Group, the leading telecommunication service provider in Africa received an
artec technologies AG
MULTIEYE® HDTV video surveillance system
for its data centre in Cameroon.
The objective target of MTN Cameroon was to monitor the whole premises as well as the entries and the exits and all server rooms with as few high resolution network cameras as possible. For this reason the 1.3 megapixel cameras of
IQinVision
were installed. Thanks to the employment of the MULTIEYE® management software,
VideoCenter II
, the security staff now has a complete and detailed overview on the open-air ground and all entries and exits at any time. In case of any movements in front of the doors in the entrance and exit area a pop-up window opens on a monitor and after identification of the persons the security staff can open doors by means of individually configurable I/O contacts of the VideoCenter II without having to leave the control centre.
For remote monitoring of the MTN premises, 1.3 megapixel cameras of IQinVision were installed
The remote access feature is another important argument for using the MULTIEYE® system. This function is used by the security engineers to carry out service works centrally and thus helps to reduce costs.
The complete system comprises two
MULTIEYE® NET- MX network video recorders
, each with an image data processing rate of 800 megapixel and 10 TB internal hard disk capacity (RAID5 and special 24/7 video hard disks), the site plan based video management software VideoCenter II, four ADAM I/O servers for remote controlled door opening and totally 20 IQ 511 megapixel cameras of the American manufacturer IQinVision.
The Belgian distributor
Lobeco Fire + Security
and the installation contractor C+D Consult, Belgium delivered and installed the equipment in the shortest time.
More information about the HDTV video surveillance products of artec technologies can be found
here
.
Download PDF version