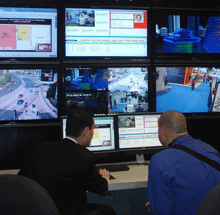 RISCO Group's integrated solution allows to determine the real time status of the devices installed in the field
After experiencing a wave of devastating robberies, Aurum, a prestigious UK jewellery chain installed Concept Smoke Screen's devices in their 100+ stores. Subsequently, Concept Smoke Screen chose RISCO Group's integrated solution to control and monitor their devices across Aurum's stores.

RISCO Group's integrated solution, comprised of ProSYS Integrated Security System and SynopSYS PSIM Platform, enables Concept Smoke Screen to remotely monitor in real time the devices located in all branches, each with its own operating hours. Concept Smoke Screen can now respond quickly and efficiently to an event involving the devices, which they monitor from one flexible user interface via synoptic maps.

Concept Smoke Screen commented, "RISCO Group's solution allows us to know the real-time status of all our devices deployed in the field, and also if and when a store has turned off the system, giving us a unique edge on our competition and delivering a higher level of customer service."
Download PDF version
Download PDF version