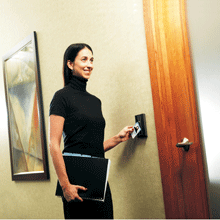 Schlage contactless smart credential
Ingersoll Rand Security Technologies
, a leading global provider of security and safety solutions and manufacturer of Schlage contactless smart credentials and readers, and
ScreenCheck International
, a leading developer of smart card software solutions, have entered into a partnership which will let customers design, encode, print and manage their card population through ScreenCheck's innovative BadgeMaker Online software. The partnership will offer customers expanded options for card personalisation and printing. ScreenCheck will also have access to Schlage's portfolio of credentials to provide to their global customer base.
"Ingersoll Rand Security Technologies is pleased to expand our global business and product offering by working with ScreenCheck International,"
states John Menzel, Ingersoll Rand Security Technologies Director of Business Development.
"This partnership provides our customers with a complete card management system. ScreenCheck has proved to be an innovative player in the credential industry for over 15 years."

"The partnership with Schlage helps expand our product portfolio and further positions us to be a leader in ID management solutions,"
adds Roger Berk, President of ScreenCheck.
"We are excited to work with them due to their strong knowledge and expertise of our industry, the calibre of their product and the quality of their team."
Download PDF version