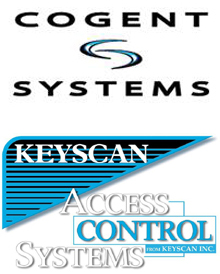 Cogent Systems and Keyscan Inc announced distribution and OEM partnership
Cogent Systems
and
Keyscan Inc
., a market leader in manufacturing premium access control hardware and software, announced today a distribution and OEM partnership. As part of this agreement, Keyscan will provide an extensive North American-wide distribution network for Cogent's BioGate line of commercial biometric readers for physical access control (PACs) solutions.
Keyscan's distribution network is a network of over 40 distributors throughout the United States and Canada and the agreement will provide security dealers and integrators with easy access to Cogent's line of Biometric readers: Search-Gate, Smart-Gate, SC-Gate, and ID-Gate. Keyscan access control dealers and integrators will benefit from an OEM firmware set that is fully integrated and allows single software enrollment using Cogent's Smart-Gate reader and Keyscan's K-Secure AES encrypted smartcards.
"This partnership is a strategic milestone for Cogent's commercial business development that should expand the market opportunity for our biometric reader product line in the access control security market. Not only will Keyscan be our distribution partner, but they will also be Cogent's largest private label customer," said Christopher Crump, Director of Commercial Business for Cogent.
"Cogent's product offering and leadership in the field of biometrics represent tremendous synergies for both organizations," said Steve Dentinger, Director of Marketing for Keyscan. "Our Partnership with Cogent rounds-out our line of physical access control panels, software, readers and cards while offering our distribution partners and integrators access to the very best in biometric technology."
Download PDF version