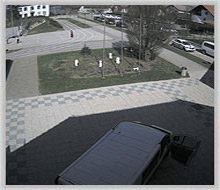 Waterland Hospital chooses IQinVision and Keyprocessor for integrated security.
IQinVision, market leader in high-performance megapixel network cameras, smart IP cameras, and network video recording systems, today announced that the Waterland Hospital in Purmerend, the Netherlands, has deployed IQinVision megapixel IP cameras to achieve superior video surveillance results. Keyprocessor installed the security system in which video surveillance, access control, parking management, and intercoms form a single, integrated solution.

Waterland Hospital offers high-end, specialist care with a strong focus on the needs of the individual patient and their relatives. The hospital was looking for a security system that offered the best of both worlds: an integrated, cost-effective system with no unfortunate surprises.
A hospital is an "open" environment with people coming and going and limited potential to control the access of all those people. Hence, a critical goal for the hospital was excellent video coverage and quality to ensure a good view of people and the environment after an event occurred. For example, if there is a theft from a patient room, the system must provide good quality images of the thief. With forensic quality images, security personnel have a better idea who to watch for at exit points and around the hospital, and the images can easily be sent to the police. Most cameras evaluated to meet these demands could not do the job, so the hospital selected IQeye cameras.

Another reason Waterland choose the IQeye was because they could use fewer cameras than in the original design, substantially reducing the project cost. Fewer cameras mean lower installation costs, reduced back-end costs and fewer maintenance costs in future. In addition, most cameras available for this application did not offer local support. Keyprocessor had good experience with the IQeye's quality and reliability, and they were confident recommending IQinVision for this demanding application.



The Hospital evaluated reliability, proven technology, price, ease of use, quality and support, and in the final decision Waterland chose the IQeye, the cameras that delivered all the desired end-user benefits and a lower TCO.

"In general, we have found the EU to be ahead of North American in terms of networking infrastructure and willingness to embrace the latest technology," commented Paul Bodell, IQinVision Chief Marketing Officer. "So the adoption of IQeye megapixel technology in Europe has been much faster than in other regions of the world. Since surveillance has been used widely in Europe for many years now, the majority of end users understand that yesterday's PAL resolution systems are increasingly inadequate."
Download PDF version