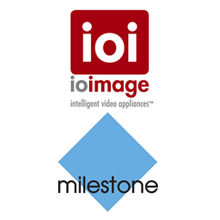 ioimage and Milestone Systems have announced a technology partnership to deliver enhanced security solutions
ioimage, the pioneer of intelligent video appliances designed for simplicity, and Milestone Systems, the leading global developer of open platform IP video management software, recently announced they have established a partnership to deliver comprehensive and enhanced security solutions.
ioimage intelligent cameras and encoders can now be seamlessly integrated within the Milestone XProtect™ video management open platform, offering unique IP video surveillance capabilities to enterprises of all sizes. Video from ioimage's intelligent encoders and IP cameras is viewed through the intuitive Milestone XProtect user interface, alerting operators to threats and recording relevant events for easy indexing and searching.
"The Milestone open platform enables the integration with ioimage analytics, so customers can benefit from the expertise of both companies and gain more effective tools for managing security. This partnership illustrates the value of leadership alliances in the industry," stated Henrik Friborg, VP Strategic Alliances and Co-founder of Milestone Systems.
"Our partnership with Milestone leverages our commitment to open architecture, offering our users and system integrators an integrated video analytics platform designed for simplicity in installation and use," said Zeev Farkash, ioimage's CEO. "Coupled with Milestone video management capabilities, ioimage intelligent appliances provide a best-of-breed solution that ensures reliable, cost effective and proactive video security."
Download PDF version