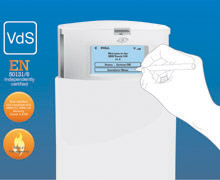 Chiron's IRIS alarms-over-IP used in Danish education projects
International building systems integrator
TAC
has utilised the operational benefits of
Chiron Security Communications
' IRIS alarms-over-IP monitoring solution to help protect a large educational institution in Denmark. As part of TAC's ongoing contract to install integrated access control and intruder alarm systems at a large number of on-site university buildings, Chiron's IRIS 840 IP dialler is being installed at each location.
TAC's Project Manager - Technical support, Henrik Olsen, explains that his client required security coverage for up to 150 separate buildings within its large, distributed campus area, all of which will be linked to a common management system at a centralised control room. "We opted to use Chiron's IRIS system at every one of the locations because it's simple to install and engineer, as well as being reliable in operation in our experience," he says.
So far, some 10 buildings have been completed in this ongoing project and the Chiron systems are transmitting alarm signal information via IP links to a third party alarm receiving centre, Rednings-Ringen, Lemvig A/S. Mr Olsen adds that the university employs some 5-10,000 staff and has around 30,000 students. Once fully installed, he adds, the IRIS system may be expanded to include visual verification of alarm alerts.
Meanwhile, in another important move, TAC has also selected Chiron's latest IRIS Touch system for use with its powerful I/NET Seven integrated building control solution. Offering a comprehensive package for end users such as telecoms providers, manufacturing plants, military bases and government institutions, I/NET Seven's distributed architecture incorporates HVAC, digital video, lighting and access control. "We opted for IRIS Touch because it offers the most usable and user-friendly system available on the market and as such complements the I/NET Seven system perfectly," Mr Olsen comments.
"We opted to use Chiron's IRIS system because it's simple to install and engineer, as well as being reliable in operation in our experience"
Chiron's Corporate Account Manager, Vikram Datar, adds that the advantages of IRIS and IRIS Touch alarm transmission and monitoring systems include faster alerting, cheaper line monitoring, a range of value-added services such as building management system monitoring, plus improved network resilience. IRIS Touch is a recent major update to the IRIS range that provides a variety of extra user-friendly features as well as a fresh new design and operating interface, which makes life much easier for end users and installers alike. It now boasts independent, Europe-wide VdS verification and accreditation - the benchmark standard most widely recognised across Europe.
"IRIS is now supported by around 100 monitoring centres across Europe and being used by businesses including Travelex, the largest retail foreign exchange specialist in the world, High St retailers such as Halfords, Toys 'R' Us and Topps Tiles, leading financial institutions, as well as schools, petrol station operators, chemist chains and a variety of other companies," Mr Datar notes.
Many alarm panel manufacturers are also now offering IRIS technology embedded within their panels, while an increasing number of insurers are backing the system too. IRIS offers the reassurance of secure primary and back-up communications routes between a monitored site and alarm receiving centre, while providing the ability to make tangible operating cost savings and significantly adding value to a company's existing IT network.
Download PDF version