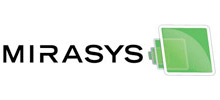 Mirasys video surveillance system has been installed at Marriott Grosvenor Square
Mirasys, one of the world's leading providers of open platform digital CCTV and video surveillance solutions, has announced that it has provided a surveillance system for one of London's most prestigious luxury hotels, the Marriott Grosvenor Square. As the hotel completes renovations and adds new meeting areas and banqueting suites, it was necessary to upgrade the surveillance system, and two Mirasys V5000 digital video recorder servers, installed by security specialists
Link CCTV Systems
, provided the flexibility and reliability that was required.
The Mirasys server, which supports 48 cameras at the Marriott, allows for digital images to be recorded on up to 64 channels simultaneously. The hotel's existing analogue cameras have been seamlessly integrated within the Mirasys solution, which provides the option of introducing high resolution IP cameras in the future.
Paul Morton, head of loss prevention at the Marriott Grosvenor Square, said, "We were very impressed by the versatility of the Mirasys V5000 system. As the needs of the hotel change, so the range of surveillance capabilities we look for is increasing. This server has a powerful set of features that will enable us to monitor the varied facilities here at the Marriott Grosvenor Square, and gives us the option to increase the complexity of our security systems in the coming years."
Among the key features of the Mirasys video recording server built at the Marriott are continuous, motion-based, audio level and event recording. Footage can be searched from up to 8 channels simultaneously to include time and date, specified events, motion and activity. Media can be exported to CD/DVD with one click media clip and data watermarking, and media clip authentication with the Mirasys Media Player is also included.
"Mirasys provides a range of solutions for users who need a cost-effective user-friendly system that fits with the needs of their businesses. Increasingly, customers are finding that our systems offer that flexibility while facilitating the move towards IP cameras and fully digital systems that's now underway," said Jukka Riivari, chief executive officer at Mirasys.
Link CCTV Systems is an installer and service provider throughout the UK. Its managing director, Steve Smith, added, "This installation is testament to our policy of providing best solutions to suit the customer's requirements. Our team has recommended Mirasys products for a number of installations and we've always been extremely happy with the performance and support that we've come to expect from Mirasys."
Download PDF version