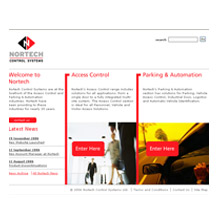 Nortech Control Systems have launched a new webiste.
The new site has been organised into two sections which represent the company's two strategic markets. The 'Parking & Automation' and 'Access Control' divisions have been set up to help users find the information they require quicker and easier.
All the information and tools from the previous site are available, plus more. Nortech have provided more detailed product information and recent case studies.
Find the new website here
Download PDF version