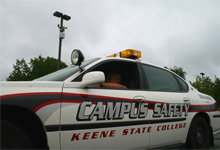 The webinar covered dos and don'ts of video surveillance, scalability and multi-service networks etc
Physical security is becoming a critical topic for healthcare, housing authorities, education institutes, retail and commercial applications. Many of those entities have chosen to install network-based security and surveillance system in order to proactively combat violence and vandalism, and provide a safe environment.
In the
online webinar
Adam Thermos, former Criminology Professor and an established authority in engineering security solutions for campus environments, and Cosimo Malesci, VP of Marketing at
Fluidmesh Networks
, presented the opportunity to learn more about security and explained how a wireless system can help you provide pervasive coverage of your facilities while decreasing the overall total cost of ownership of your security system.
The webinar covered the following topics:


Expectations and project management
Possible challenges in deploying wireless infrastructure
Dos and Don'ts of video surveillance
Scalability and multi-service networks
Case studies based on existing deployments
Download PDF version