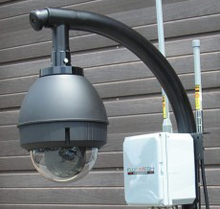 Unilux Portable IP Command System uses Fluidmesh wireless mesh video network for remote monitoring
Unilux, Ltd
., based in Gaithersburg, Maryland, needed to provide a client with an effective means of monitoring a large event. They were looking for a video system they could deploy only when needed and is also mobile enough to be transported in a van and stored when not in use.
Solution:


Unilux, Ltd. tapped on the technical capabilities of
Fluidmesh
Networks and together the companies developed the Unilux Portable IP Command System designed for monitoring areas using a completely self-contained wireless mesh video network.
Project description at a glance:


When Unilux, Ltd. teamed up with Fluidmesh Networks to create a portable wireless mesh system to monitor large areas, they came up with much more than one particular solution for one particular client. The Unilux Portable IP Command System is proving to be a viable, reliable and cost-effective system for a myriad of clients seeking this type of portable security solution.
Part of its broad appeal is that it is a mobile system; it can be transported in a vehicle and stored when not in use. It's ideal for law enforcement and any state or county government looking to monitor large events or areas without committing to a permanent installation. Another perk of the Portable IP Command System is that it can be set up quickly. Monitoring and recording of the system is done via the UniNet-IPR Recording and Management System which offers the end-user full camera control. From the Web interface the user can also monitor the performances of the network in real-time through a graphical interface on their PC or laptop.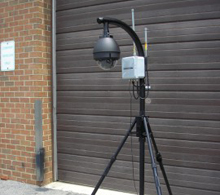 The entire command system consists of four IP cameras powered by 12 Volt batteries for versatile performance
The wireless system is based on the FM2200 dual-radio platform and can operate on the 2.4, 4.9, and 5.1-5.9 GHz range to provide maximum flexibility in the deployment. Fluidmesh proprietary transmission protocol guarantees a rock solid network and extremely low latency. The system supports both omni-directional and directional antennas and a link distance up to 5 miles in line of sight. The wireless mesh network is fully controllable from the head end through a Web interface which strongly reduces deployment time.
The entire system is contained in four hard cases, four tripod bags and one case for the Command unit. It consists of four IP cameras, four BlueSky tripod towers that can extend up to 18 feet in the air using guide cables for safety, and four Fluidmesh wireless network radios that act as transmitters, receivers or repeaters automatically. All components are powered by 12-volt batteries for complete versatility. Video is transmitted wirelessly between towers and the Command station. The mesh system provides automatic connection and full-time monitoring of the network traffic to provide fast and reliable transmission. The Command Unit Master receives video from all four towers simultaneously through typical near-line-of-sight network transmission.
Law enforcement is also find great uses for the Portable IP Command System. Detective Scott Sube of the Montgomery County Police Department in Maryland notes that:
"The Department has recently purchased a UniNet 4001 system. The system will be utilised at hostage/barricade incidents and mass demonstration events to provide on-scene intelligence gathering. Via the remote access capabilities, video from the scene can be viewed over the Internet to any authorised user."
Download PDF version