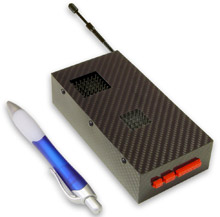 Again VTQ Videotronik GmbH will take part at the IFSEC 2007 in Birmingham. It will present a COFDM wireless system of the newest generation - its digital wireless video system O.R.C.A. II. This system offers all features necessary for an optimal digital wireless transmission in DVD quality. Thanks to its COFDM modulation and MPEG2 compression the video transmission operates highly stabile. A mobile transmission with a high range is even in a heavily built-up area no problem for the new O.R.C.A II.
Despite of the optimal performance of this new wireless transmission system it is uniquely small and solid. All COFDM video parameters may be set easily via a well arranged menu. As with the previous system the O.R.C.A II operates at two frequency bands (2.4GHz or 5.8GHz). Of course customised adjustments are possible at any time. Also the system is available as individual PCB (OEM).
Additionally, VTQ will present its new bandpass filter for an especially high selection at wireless transmission. The new bandpass filter suppresses excellently heavy interferences which are located near the receiver, such as UMTS basis stations working at 2.11GHZ - 2.17GHz. VTQ delivers this product in two versions - version 1 with frequency band 2200-2350MHz or version 2 with frequency band 2350-2500MHz. The transmission loss of this highly selective filter is 3dB at a selection of 70dB at fcenter ± 100MHz.
Download PDF version
Download PDF version