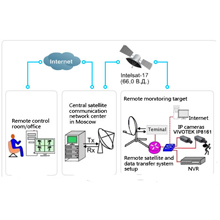 Vivotek's IP8161 is a 2-Megapixel, full-HD box camera with a removable IR-cut filter for day & night function
Severneftegazstro, a Russia-based system integrator, specialising in installation, repair and dismantling of oil and gas pipelines, was the key player behind the project. As the integrator performs duties mostly during wintertime, when summer comes around, the equipment is kept in a town near Demyankov Uvat, Tyumen, as heavy machines cannot be operated on swampy ground. Somewhat geographically isolated, the town is only accessible by tracked vehicles in the summer and the nearest train station is about 50 km away. Aside from the challenges arising from the nature of the location, the lack of resources poses strong safety concerns for Severneftegazstro. During low seasons, there are only a few guards stationed to look after the equipment. SATCOM, VIVOTEK's valued local partner, provided surveillance solutions that could monitor the town, the equipment and the warehouse via satellite for remote viewing in Moscow.

Solution

SATCOM carried out initial negotiations with the client regarding supplying, installing and commissioning the pioneering full-fledged remote surveillance solution via satellite. In total, 8 pieces of VIVOTEK IP8161 network cameras were installed. The IP8161 is a 2-Megapixel, full-HD box camera with a removable IR-cut filter for day & night function and real-time H.264, MPEG-4 and MJPEG compression capability embedded. Once integration with NUUO's NV-2040 NVR Mini and connection with the VSAT network operator were complete, a communication channel was then established.

Mission

The most challenging and stimulating part of this project is the coordination between the high-voltage line and the highway gas pipeline. A highway gas pipeline was built paralleled to a high-voltage 10 kV electrochemical line, which serves as protection for the pipelines. The high-voltage line also feeds electricity and supplies power to the town by using the same electrical transformer substation. It is imperative the machines remain functional at all times for stable, uninterrupted connections. In order to monitor the machines, SATCOM installed 2 VIVOTEK IP8161 network cameras between overhead poles and high-voltage wires. Known for its high quality and reliability like all other VIVOTEK cameras, the IP8161 plays a vital role capturing the scene and decoding the footage in such great details.

One of SATCOM's goals for the project was to minimise the use of the expensive satellite channel. With two 2-TB hard drives, the NV-2040 NVR Mini provides continuous recording for the cameras for up to 30 days of storage. The system operator can view the real-time footage in medium quality or select a footage within a specific time frame and view it in higher quality.
Customer Feedbacks

Soft-Tronik was pleased to have chosen VIVOTEK IP8161 for the project. Not only was the IP8161 a cost-effective investment, it also met all technical requirements perfectly well, particularly its uncompromised performance even under such extreme weather conditions, such as between the temperature of -55 to +30.
Download PDF version