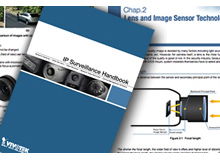 VIVOTEK announces the release of its guidebook for video surveillance, the IP Surveillance Handbook
VIVOTEK
is pleased to announce the release of its first-ever guidebook for video surveillance, the IP Surveillance Handbook. Written with system integrators and installers in mind, the handbook is aimed at enhancing readers' knowledge in the IP surveillance field and optimising IP surveillance system installation.
The book contains an introduction to IP surveillance including hardware equipment, software platforms and supplementary accessories, along with field knowledge and technologies of IP networking, data storage, intelligence surveillance and video / audio management. It also offers guidelines for successful deployment of reliable IP surveillance systems that truly address customers' demands.
"To build a comprehensive and solid knowledge is a key driver for IP surveillance development and this is why we put so many efforts to compose the IP Surveillance Handbook. Through this book, system integrators will know the benefits of IP surveillance technologies and how to maximise their investment in IP surveillance. For users keen to tap into the burgeoning market, this book will come off as a helpful introduction," said Owen Chen, Chairman of VIVOTEK.
Download PDF version